As a child, I enjoyed playing "Where's Waldo?", which involves finding this weird-looking fellow, who hides in complicated pictures:
| | | |
| --- | --- | --- |
| | <![if !vml]><![endif]> | <![if !vml]><![endif]> |
I also enjoyed the "What's missing?" game, where the player must identify what is missing from a picture.
All right, yes. I was (am) a geek. Be a geek with me, for a second, and let's see what these two games can teach us about Israeli politics.
<![if !supportLineBreakNewLine]>
<![endif]>
What's missing?
_______________
In the summer of 2009, Avigdor Lieberman, foreign minister in Benjamin Netanyahu's administration, encouraged the circulation of this photograph:
<![if !vml]>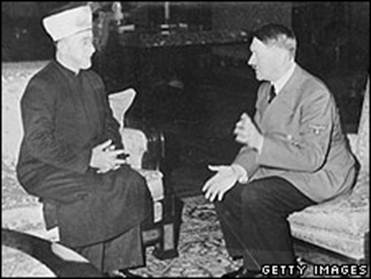 <![endif]>
Hajj Amin al Husseini with Adolf Hitler
On the left we have prominent Palestinian Arab religious leader Hajj Amin al Husseini, Mufti of Jerusalem in the first half of the 20th c. On the right, everybody's favorite: Adolf Hitler. They seem friendly. They were.
What's missing? Nothing. This is not yet the game.
Why did Lieberman have this photo circulated? " 'It is important that the world know the facts,' a spokesperson for Mr Lieberman told the BBC, without giving further detail."[1]
At that very moment, the US government was leaning hard on Israel not to build Jewish housing on the site of the Shepherd Hotel in Jerusalem, which had once belonged to Husseini's family but had now been bought by American Jewish millionaire Irving Moskowitz. The media found "an Israeli official" who explained that "the move by Mr Lieberman was linked to the row over the Shepherd Hotel."
Now we are ready. What's missing? The point!
If the Israeli government wants to build Jewish housing in East Jerusalem on a property formerly owned by Husseini's family, and if Husseini was friendly with Hitler, what does that have to do with the price of tea in China? Lieberman didn't explain, he just circulated the photo "without giving further detail."
So the media had a field day.
BBC News painted Lieberman as the unreasonable "far-right Foreign Minister Avigdor Lieberman," and repeated the complaints of Palestinians who claim that Israel "uses settlement and demolition orders to try to force them from the area" of East Jerusalem where "Palestinians hope to establish their capital... as part of a two-state peace deal with the Israelis." The Independent wrote that Moskowitz is "a major benefactor of right wing settler groups," and also that "the [Lieberman] move has alarmed some experienced Israeli diplomats who believe it will be counterproductive." There was "one Israeli official in Jerusalem [who] said of Mr Lieberman's move: 'If the issue here is sovereignty over Jerusalem then passing on a historical photograph like this completely misses the point... It has nothing to do with it.' "[1a] The Australian added: "The order has been greeted inside the Israeli Foreign Ministry with derision, with one source telling The Australian it was met with 'laughter, skepticism and a sense of misplaced communication that this doesn't help one bit the real argument.' "[1b]
So, thanks to no "further detail" from Lieberman, this became the media-framed story of an ugly 'right-winger' Jew engaging in ridiculous behavior: he published an entirely meaningless photo of a Palestinian Arab cleric chatting with Hitler, the better to assist other 'right-winger' Jews in their efforts to derail 'peace-loving Palestinians.'
But what if Lieberman had given "further detail" (you know, because "It is important that the world know the facts")?
Suppose, for example, that Lieberman had explained that Hajj Amin al Husseini was no mere "top Palestinian cleric," as BBC News would have it. He was the scion of the most powerful Muslim family in Jerusalem, and became the founder and leader—the 'George Washington,' as some have called him—of the 'Palestinian movement' itself. This movement was in fact created with the help of the British, who made Husseini Grand Mufti of Jerusalem, conferred on him enormous powers throughout British Mandate Palestine, and assisted his early terrorist attacks against the Jews of said Mandate. From late 1941 onwards, Husseini spent the war in Nazi-occupied Europe functioning as a top-ranked Nazi. He raised Bosnian Muslim SS troops for Hitler that carried out unspeakable atrocities against Serbs, Roma, and Jews in Nazi-occupied Yugoslavia, he directed a great deal of wartime Nazi propaganda, and he worked closely with Adolf Eichmann in the organization of the Final Solution, which is to say the bureaucratic and logistical apparatus responsible for producing what Jews call Shoah ('Catastrophe') and the rest of the world calls 'the Holocaust': the extermination of between 5 and 6 million European Jews. At the meeting documented in the photograph, Hitler had promised to help Husseini also to get rid of the "Jewish element" in the Middle East. After the war, Husseini escaped the Nuremberg War Crimes Tribunal and took refuge in Cairo, where, in the 1950s, he procured German Nazi training for Yasser Arafat, Mahmoud Abbas (Abu Mazen), and a few other adolescents who became the nucleus of Al Fatah, better known as 'the PLO.'
HIR has documented Husseini's trajectory here:
► "How did the 'Palestinian movement' emerge? The British sponsored it. Then the German Nazis, and the US."
Historical and Investigative Research - 13 June 2006
by Francisco Gil-White<![if !vml]>

<![endif]>
http://www.hirhome.com/israel/pal_mov4.htm
In short, thanks to the Oslo 'Peace' Process, PLO/Fatah, created by one of the main responsible figures in the German Nazi Final Solution against the European Jews, was brought into the Jewish State—created to protect Jews from Final Solutions—by Israel's own 'leaders,' was given power over the Arabs in the disputed territories, and is now better known as the 'Palestinian Authority.'
Is this relevant? Naturally.
<![if !supportLists]>1) <![endif]>The Palestinian Arabs complain all the time that they supposedly had nothing to do with the Holocaust.
<![if !supportLineBreakNewLine]>
<![endif]>
<![if !supportLists]>2) <![endif]>Had Israeli leaders told the Israeli public that they were going to bring the German Nazis into the Jewish State all of Israel would have said: "No!" In fact, most Westerners would have said "No!" And what does this mean? That the Oslo 'Peace' Process requires total silence from Israeli leaders on PLO/Fatah origins. (It requires silence from others, too.[2])
<![if !supportLineBreakNewLine]>
<![endif]>
<![if !supportLists]>3) <![endif]>If Israeli leaders had spoken publicly about PLO/Fatah origins in the prelude to the Oslo Accords, we wouldn't be discussing whether Jewish housing can be built in the Jewish capital because there would be no Oslo 'Peace' Process and PLO/Fatah would not be inside the Jewish State. But Israeli leaders kept silent about PLO/Fatah origins, and helped clean up the prestige of PLO/Fatah.
Now, because of Lieberman's silence, because of his refusal to give "further detail," the anti-Israel media—essentially all of the mainstream mass media—get to portray history any way they please: they grant that Husseini was a Nazi, but omit his role in the Holocaust, and omit his role in the creation of Yasser Arafat, Mahmoud Abbas, and PLO/Fatah.[3] In this way, they get to claim that the relationship between Husseini and Hitler is meaningless to current issues and "completely misses the point." In fact, Haaretz, always rushing to defend the Palestinian Arab point of view, wrote:
"An official in Palestinian President Mahmoud Abbas's government accused [Avigdor] Lieberman of 'political bankruptcy' in ordering the distribution of the Husseini-Hitler photograph.
'It's an old story that has its own circumstances and doesn't apply to the present,' said Adnan al-Husseini, the Palestinian Authority-appointed governor of Jerusalem, and a relative of the late mufti." [4] [my emphasis]
An "old story" that "doesn't apply to the present"? Naturally. What relevance could this possibly have today? After all, it's not as if relatives of the genocidal Mufti—such as Adnan al-Husseini—are still directing the Palestinian movement!
Notice what was reported about another relative of the Mufti, Faisal Husseini, in the Washington Post:
"What angers the Israelis is that [Faisal] Husseini's well-endowed Arab Studies Society published literature that glorified some of Israel's most brutal enemies, including Nazi sympathizers, and circulated 'historical' maps that show no place for Israel in the Middle East."[5] [my emphasis]
<![if !vml]>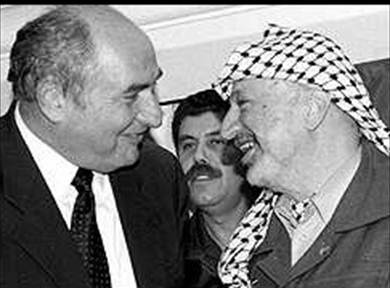 <![endif]>
Faisal Husseini (left) with Yasser Arafat
Until his death, Faisal Husseini was Yasser Arafat and Mahmoud Abbas's right-hand man. Right before his death,
". . .Faisal Husseini, the top PLO official in Jerusalem…[was] quoted as likening the Oslo accords to a 'Trojan horse.'. . .[T]he weekly Al-Arabi,[6] quotes Husseini as calling the Oslo accords 'just a temporary procedure, or just a step towards something bigger. . .the liberation of all historical Palestine from the (Jordan) river to the (Mediterranean) sea, even if this means that the conflict will last for another thousand years or for many generations.' "[7]
For anybody unclear on the meaning of 'Trojan Horse,' I explain. In Homer's famous poem The Iliad, the Greeks who besieged the city of Troy employed a deadly ruse. They pretended to concede the war and left, but not before placing at the gates of Troy an enormous wooden horse as a gesture of 'peace.' The horse was hollow, and inside was hidden a crack team of Greek warriors, including Odysseus and Achilles. The jubilant and naïve Trojans accepted the gift, brought it into the city, and celebrated. At night, the Greek warriors crept out of the horse, opened the gates of Troy for the rest of the Greek army, and proceeded to exterminate the Trojans in their drunken sleep. Didn't PLO/Fatah promise 'peace' with Israel? Didn't jubilant Israeli leaders bring PLO/Fatah into Israel? Aren't the Israelis asleep? Yes, yes, and yes. Now you see.
And Yasser Arafat was not shy about declaring his admiration for a leader of the Holocaust: in August of 2002 he referred to the Mufti as "our hero, Hajj Amin al Husseini," and boasted that he had been Husseini's soldier in the War of 1948 against the Israeli Jews.[8] And what was Husseini's objective in that war? This was clearly explained by Azzam Pasha, Secretary General of the Arab League, who, prior to opening hostilities, announced it would be "a war of extermination and a momentous massacre, which will be spoken of like the Mongolian massacres and the Crusades."[9] So Arafat was naturally proud to have been Husseini's foot soldier in a war meant to finish the German Nazi Final Solution just three years after its interruption.
So let's play again. What's missing from the Israeli political scene?
What is missing is an Israeli politician who will explain that a top leader of the German Nazi extermination of the European Jews was also the father of the Palestinian movement, creator of PLO/Fatah, and mentor and leader to Yasser Arafat and Mahmoud Abbas.
Let's call this Israeli politician 'Waldo.'
<![if !supportLineBreakNewLine]>
<![endif]>
What Waldo would achieve (if he could be found)
__________________________________________
If Waldo could be found, Israelis would have defeated PLO/Fatah already. It is not difficult to see why, but this requires understanding the concepts of 'honest signaling,' and 'political grammar.' I shall explain each in turn.
<![if !supportLineBreakNewLine]>
<![endif]>
Honest signaling
In evolutionary game theory, the topic of 'honest signals' has already generated a large literature. I will explain the basic idea with an example familiar to us all: courtship.
Boy likes girl; girl likes boy. But matters are never this simple. The boy is often a crazed, hormone-guided fiend, whose only interest is sex, and who will say anything in order to 'get some.' The girl is also interested in sex, but she worries about the consequences. If she gets pregnant, will the boy stick around and provide for the offspring? Or will he 'hit and run,' leaving the girl to bear the responsibility of raising the child all by herself? The boy promises loyalty, fidelity, and all that good stuff, and begins to unbutton the girl's shirt. The girl stops him short. How can she know that his promises are honest? Talk is cheap. She'll need something more..., ahem, expensive. Enter: the diamond ring. An engagement ring, symbol of the promise of marriage, tradition holds, should cost the suitor 2 months' salary, so this is an expensive way of saying "I love you and will stand by you." A crazed, hormone-guided fiend will not likely give a diamond ring just to get sex, because there are cheaper ways to get sex. Every culture has found a way to make a potential suitor pay a hefty advance price in order to demonstrate that he really means business. A sufficiently costly gift works as an honest signal of commitment.
The above popularizes the game-theoretic reasoning, but we also have empirical evidence to back this up. In the United States,
"Until the 1930s, a woman jilted by her fiancé could sue for financial compensation for 'damage' to her reputation under what was known as the 'Breach of Promise to Marry' action. As courts began to abolish such actions, diamond ring sales rose in response to a need for a symbol of financial commitment from the groom, argues the legal scholar Margaret Brinig... To be marriageable at the time you needed to be a virgin, but, Brinig points out, a large percentage of women lost their virginity while engaged. So some structure of commitment was necessary to assure betrothed women that men weren't just trying to get them into bed. The 'Breach of Promise' action had helped prevent what society feared would be rampant seduce-and-abandon scenarios; in its lieu, the pricey engagement ring would do the same."[10]
The general lesson: when there is risk due to a potential conflict of interest, the more costly a signal of commitment, the more reliable it is likely to be.
Electoral politics is courtship. The hopeful candidate woos the voter with all sorts of campaign promises. The voter worries, of course, that once in office the candidate will simply do as he pleases. Voters are often betrayed. It would be nice if they could demand—and get—costly signals of commitment.
Take the Israeli case, for example.
The first time around, Netanyahu campaigned on promises to halt and even reverse the Oslo Process. Israelis voted for him. Once in office Netanyahu advanced the Oslo process faster. Then Ariel Sharon campaigned on promises to halt and even reverse the Oslo Process. Israelis voted for him. Once in office Sharon advanced the Oslo process faster. Then Netanyahu campaigned again on promises to halt and even reverse the Oslo Process. Israelis voted for him. Once in office, Netanyahu advanced the Oslo process faster.[11] 
To avoid crassness, let's say that Israelis 'have been made love to' over and over.
But now imagine a national Israeli candidate—let's call him 'Waldo'—who:
<![if !supportLists]>1) <![endif]>campaigns against continued negotiations with PLO/Fatah;
<![if !supportLineBreakNewLine]>
<![endif]>
<![if !supportLists]>2) <![endif]>who preaches defeat of PLO/Fatah; and
<![if !supportLineBreakNewLine]>
<![endif]>
<![if !supportLists]>3) <![endif]>who, at the same time uses all the resources of his campaign to inform Israelis about the German Nazi origins of PLO/Fatah.
Point 3 would act as an honest signal of commitment. Why? Because the Jewish State simply may not (openly) give strategic land to German Nazis, and thus, if after informing the Israelis of PLO/Fatah's Nazi origins Waldo managed to assume office, he would be risking revolution if he went back on his promises and instead advanced the Oslo process faster.
But Waldo would not only be emitting an honest signal of commitment if he campaigned this way. He would also transform the Israeli political grammar. And the Western political grammar to boot.
<![if !supportLineBreakNewLine]>
<![endif]>
Political grammar
A grammar is a system of rules that defines the structure of a language. For example, one rule forces you to follow the word "the" with a noun. An 'ungrammatical' sentence is one that breaks such rules.
Politics also has a grammar. In Israeli politics, today, it is completely grammatical to say, "The Jewish State will give strategic land to PLO/Fatah." By way of demonstration, let us examine an exchange between journalist Larry King and Israeli Prime Minister Benjamin Netanyahu:
KING: Do you -- you absolutely favor a Palestinian state though, right?
NETANYAHU: I do. […]
If it were not already clear what Netanyahu "absolutely favor[s]," here is something else he said in the same interview:
Now consider:
<![if !supportLists]>1) <![endif]>The so-called 'peace' process is there to negotiate an "independent country" ruled by PLO/Fatah.
<![if !supportLineBreakNewLine]>
<![endif]>
<![if !supportLists]>2) <![endif]>In a book authored by Netanyahu, he reproduces as an appendix a US Pentagon study that determined Judea, Samaria ('West Bank'), Gaza, and the Golan to be strategic territories indispensable to the survival of Israel.[13]
So Netanyahu has told King:
"I absolutely favor giving strategic territory of the Jewish State to PLO/Fatah."
It's grammatical.
But if Waldo could be found in Israel, he would change the grammar of Israeli politics, because Israelis would understand Netanyahu to be saying this:
"I absolutely favor giving strategic land of the Jewish State to the German Nazis."
That's ungrammatical. It makes no sense.
So, if Waldo could be found in Israel, even if he didn't win office, but merely by campaigning, he would make further negotiations with PLO/Fatah impossible. He would irrevocably transform the entire grammar of Israeli politics.
But not only that.
Waldo would create a storm all over the worldwide Jewish community, and pretty soon every Jew in the world would understand that PLO/Fatah = German Nazis. The transformation of the bleeding heart 'leftist' Jews would begin, and they would discover the alternative: disgust with the 'peace' process, and pride in being a Jew. The Jews of the world could then use their resources to inform ordinary Westerners everywhere (mass media or no mass media), like they did in 1933, defying their own 'leaders,' when they almost brought down the brand new Third Reich.[14] (You didn't know about that? Read about it here).
And then Israel would have won the propaganda war.
This would happen with a vengeance if Waldo—as he would, being Waldo—also informed the Israelis that PLO/Fatah is a close ally of Iran, which terror state in public calls for the extermination of the Israeli Jews. We have documented that important link here:
► PLO/Fatah and Iran: The Special Relationship
Historical and Investigative Research - 25 May 2010
by Francisco Gil-White<![if !vml]>

<![endif]>
http://www.hirhome.com/iraniraq/plo-iran2.htm
Oh, the things Waldo could achieve! (If only he could be found...)
If Waldo existed, he would single-handedly put the entire Western citizenries on a war footing against the Islamic surge, and the West might have a chance to defend itself in time. Because that is what will follow an Israeli victory in the propaganda war.
The defense of the West begins in Israel. And in Israel, it begins with Waldo.
Where's Waldo?
<![if !supportLineBreakNewLine]>
<![endif]>