Article 27 of the Hamas Charter states:

"The Palestinian Liberation Organization [PLO = PLO/Fatah = 'Palestinian Authority'] is the closest to the heart of the Islamic Resistance Movement [Hamas]. It contains the father and the brother, the next of kin and the friend. The Moslem does not estrange himself from his father, brother, next of kin or friend. Our homeland is one, our situation is one, our fate is one and the enemy is a joint enemy to all of us."[1]


"To think that Palestinians will attack Palestinians is a rotten idea"

...said by Jibril Rajoub, head of the PLO's security service, when asked, right after the Oslo Accord was signed, whether his forces would suppress the terrorists in the Hamas organization, where his brother Nayef Rajoub is an important religious leader.[2]
___________________________________________________________
Table of Contents
( hyperlinked █ )
█  Short Preface
█  The 'fight'
█  The battle that never was
█  The consequences
___________________________________________________________
Short Preface
Recently, we've been told, in the wake of the Israeli government withdrawal from Gaza Strip, PLO/Fatah and Hamas had a big fight, and Hamas won, with the result that Hamas took over Gaza.
How to interpret this?
In the media world Hamas and PLO/Fatah (now also known as the 'Palestinian Authority') are great enemies, always snarling at each other in the pages of the New York Times and other such publications.
But in the real world, Hamas includes a love letter to PLO/Fatah in its very charter (see above), leaders of Hamas become leaders of PLO/Fatah and vice-versa, the two cooperate closely to repress the Arab civilian populations of the West Bank and Gaza, and they also coordinate themselves to attack Israel.[2]
In the media world only Hamas is supported by Iran, because Hamas are the 'Islamist extremists,' whereas PLO/Fatah are 'secular moderates.'
But in the real world, PLO/Fatah has a long tradition of advocating Islamism to its Arab audiences (though not to the Western press), and it also has a very long relationship with the Iranian mullahs who took over that country in 1979, because PLO/Fatah in fact helped put them in power.[3] As this history would lead us to expect, Iran is supporting both PLO/Fatah and Hamas.
So what about the fight? Was it a real fight? Has a real enmity now developed between PLO/Fatah and Hamas?
<![if !supportLineBreakNewLine]>
<![endif]>
The 'fight'
_________
Following public disagreements between Hamas and PLO/Fatah, armed battles broke out in late December 2006.
These battles were peculiar. The Associated Press reported that "despite the intensity of the fighting, no one was wounded." Read that again. There is intense fighting but nobody is even wounded. At the same time, Hamas's launched two rockets at the Jews and managed to injure "a 2-year-old boy."[12]
This contrast beggars description. With just two notoriously inaccurate rockets the Arab terrorists find a Jewish target; but intense fighting between the same Arab terrorists yields not a single wound. What were they doing? Shooting into the air? Using blanks?
The Arabs are not the only ones to see an opportunity in their internecine 'fighting' to attack the Jews. Israeli Prime Minister Ehud Olmert sees another one. In mid-January he announces that he will "free $100 million in frozen tax funds to boost moderate Palestinian President Mahmoud Abbas."[13]
Why? Because Mahmoud Abbas, the PLO/Fatah chief, is the "moderate Palestinian President," and good people everywhere -- certainly the 'well-meaning' Israeli Prime Minister! -- ought to boost him and PLO/Fatah against Hamas (to save 'peace').
That makes perfect sense because "Abu Mazen [Mahmoud Abbas] is... one of the founders of PLO/Fatah, one of the original Arafat band of brothers,"[16] brought together and trained in Egypt in the 1950s by German Nazi refugees under supervision of Hajj Amin al Husseini, who before this had been co-architect—with Adolf Eichmann—of the German Nazi system of death camps that exterminated the European Jews.[17] Quite naturally, Abbas is the moderate.
Al-Aqsa Martyrs Brigades, a component of PLO/Fatah, is considered "the deadliest Palestinian militia."[14] Why? Because of its painstaking moderation. When Arafat died, the Brigades raised their weapons in the streets and chanted for more violence against Israelis, and for Abbas to become the next PLO/Fatah chief.[15] Why? You are not paying attention. Because the PLO/Fatah thugs, the "deadliest Palestinian militia," want to keep PLO/Fatah moderate.
The Western and Israeli ruling elites have been selling us this story—dutifully assisted by the mainstream media—ever since the Oslo 'peace' process diplomacy began. Central to it is the claim that Hamas's refusal to be moderate is what creates a 'rivalry' between Hamas and the arch-moderate, peace-loving, humanitarian doves in PLO/Fatah.
This story in fact has been the West's justification for arming and training PLO/Fatah, as World Net Daily explains: "the U.S. in recent years reportedly transferred large quantities of weaponry to build up PLO/Fatah forces against rival Hamas." These weapons went to "PLO/Fatah's major Ansar complex, where American-provided weapons were delivered and stored."[29]
Now, but if the representation of PLO/Fatah as the 'moderates' looks phony, couldn't the supposed fight between Hamas and PLO/Fatah also be a phony?
We have already seen that even intense fighting between Hamas and PLO/Fatah can result in zero wounded. Notice how the fighting is reported towards the end of January:
"Neither side is using all of its firepower because they are giving coalition talks another chance and because they fear risking defeat in an all-out confrontation, said Mouin Rabbani, a Jordan-based analyst for the International Crisis Group, an independent think tank."[23]
So the fighting is restrained. This is the pattern throughout. And there are repeated truces, and even announcements of an impending unity government. Then they go back to pinprick fighting. Almost civilized. This means that neither side is seriously depleted. Since the  'hostilities' are used as an excuse for outside powers to arm both sides to the teeth, it follows that, if the fight is eventually decided without a very big clash, the amount of weaponry in both Gaza and the West Bank will have increased tremendously.
Should the 'fight' be decided without an actual battle, therefore, we may suspect that it is indeed a phony, there merely to consolidate forces under unified commands in both Gaza and the West Bank, preserving the theater of a supposed rivalry, and also the theater of a 'moderate' PLO/Fatah. From this point of view the sprinkling of killings that do take place may be nothing more than the Hamas and PLO/Fatah leaderships using each other's forces to conduct high-level purges in order to streamline the leadership in advance of a major attack against Israel.
Lo and behold, the fighting in Gaza is decided without an actual battle, and Hamas takes over.
<![if !supportLineBreakNewLine]>
<![endif]>
The battle that never was
______________________
The New York Post expresses in amazement:
"PLO/Fatah had some 60,000 armed men in Gaza, a strip of land covering some 65 square miles. It also had heavy cannons and rocket-propelled grenades, which Hamas lacked. Yet even PLO/Fatah's four chief bases of al-Hawa, al-Muntadam, Sarayah and al-Safineh, claimed to be impregnable, fell in just a few hours, as their defenders fled."[24]
The above only begins to describe the force disparity.
When the Associated Press stated in January that "the security forces loyal to PLO/Fatah in Gaza still outnumber the Hamas militia by several thousand" they were distorting the facts.[25] For if "PLO/Fatah had some 60,000 armed men in Gaza" and "Hamas last year set up its own 5,600-man militia,"[26] then the phrase "several thousand"—which calls to mind 5, 6, or 7 thousand—does not apply. Here the difference is more than 54 thousand in favor of PLO/Fatah.
Not only that. The 5,600-man Hamas militia is only a year old. So there were almost eleven experienced, well trained, well-armed, and heavily fortified PLO/Fatah soldiers for every just-conceived, poorly trained, and poorly armed Hamas soldier.
How could Hamas take over so easily?
In an article titled Fatah Never Fought, Charles Levinson, Middle East Correspondent for the Sunday Telegraph has shared on his blog some of his interviews with the PLO/Fatah soldiers, conducted before he fled Gaza in a Red Cross aid convoy. What these soldiers say is that they were ordered to give up.
For example, 23-year-old Abu Qusay shared his confusion as follows:
"We handed Gaza over to Hamas. We don't understand why our leaders betrayed us like this. We fought back against orders because if we had followed orders, we would have given ourselves up… [Our leaders] received orders from Abbas to give up bases but some military commanders couldn't accept this."
Abu al Majd, another 23-year-old fighter, corroborated those statements as follows:
"It was a story of surrender. The bases were given up. I feel psychologically destroyed. It really hurt. I understood that there was an order to evacuate the bases. We were betrayed."
Levinson explains further:
"The presidential guard were the most highly trained and professional soldiers in the security services' ranks and they were dismayed when rudimentary and repeatedly drilled steps to respond to the Hamas onslaught were never taken.
No state of emergency was ever declared, curfews were never imposed, no contingency counter attack plans were ever drawn up, heavy weapons were never mounted on the roofs of the security bases, and extra ammo stocks were never dragged out of storage."[27]
Levinson is appropriately amazed by all this, but he rushes to assure his readers that,
Levinson comes to this conclusion merely because he doesn't wish to "sound conspiratorial," not because it makes any sense. The idea of a Hamas victory as a fait accomplit is perfectly absurd if a Hamas victory is impossible. Which it was. Hamas could only win if PLO/Fatah didn't fight, and that is precisely what Levinson documented: that Fatah never fought. It's the title of his article!
Levinson speculates that:
"a political decision was made early on in Ramallah to surrender the Gaza Strip to Hamas in order to extricate Abbas, Israel and the US from the seeming intractable pickle they were facing as infighting spiraled, living conditions worsened, and the peace process seemed hopelessly stuck. With the Palestinian territories now split, the US, Israel and Abbas suddenly have way forward, without compromising to Hamas."[27]
It is interesting that Levinson doesn't wish to "sound conspiratorial" because his explanation above is a conspiracy theory. Not one that I find plausible.
According to Levinson's suppositions, concluding the peace process is easier when PLO/Fatah allows Hamas to 'conquer' Gaza. But this is absurd even by the standards of the media interpretation that Levinson supports, where PLO/Fatah appear as the great 'moderates' and Hamas as the radical extremists. The fundamental logic of the entire peace process is imperiled if the supposed moderates—with an 11 to 1 troop-superiority ratio, many more years combat experience, and a devastating military hardware advantage—cannot defeat the extremists. If the point is to conclude the peace process, why would anyone wish to demonstrate the dangers of signing with moderates who will soon cede power (and weapons) to extremists?
This just doesn't wash.
So consider an alternative hypothesis: the powers that be don't want peace, but just the opposite. The US power elite, and US lackeys in the Israeli power elite, wanted a wave of violence to issue from Gaza against ordinary Israelis. But since nothing in the media story is more important than the representation of PLO/Fatah as the supposed 'moderates,' PLO/Fatah needed to be out of Gaza when the Gaza violence against Israelis began. The PLO/Fatah vs. Hamas 'fight' beautifully achieved this result, and allowed Abbas to keep his 'arch-moderate' label.
The consequences are eloquent.

The consequences
_________________
This is the key point: Because the PLO/Fatah soldiers were ordered to give up, all of their arms and ammunition, and all of those heavy weapons that Hamas didn't have, Hamas now has.
As we mentioned earlier, "the U.S. in recent years reportedly transferred large quantities of weaponry to build up PLO/Fatah forces against rival Hamas." But all of that now belongs to Hamas.
"According to what Hamas members told WND, they have seized 'hundreds of millions of dollars in U.S. weaponry and equipment' from PLO/Fatah -- in fact, over $400 million, Hamas said."[29]
That is in addition to all of the weaponry that Hamas itself had been busily amassing—with Iranian help—ever since the Israeli ruling elite ordered the Gaza Disengagement.[18]
So the United States ruling elite has armed Hamas. They have done so indirectly, via the cover story that PLO/Fatah are the supposed 'moderates' who must be armed against the real extremists in Hamas, plus the theater of a supposed rivalry between Hamas and PLO/Fatah which led to a 'fight' that Hamas 'won' and to the 'capture' of all that US weaponry.
For those who argue that the US power elite is an enemy of the Israeli Jews, this was all clever: those are US weapons that Hamas will now use against ordinary Israelis.
But is this a good hypothesis?
Actually, the true intentions of power elites are most dramatically revealed when they act consistently against a particular target even when this means contradicting the media story they themselves have so painstakingly constructed.
Consider. If you accept the media story that only Hamas are the extremists, and that they are enemies of 'moderate' PLO/Fatah, and that the US is an ally of Israel, then you predict that once the Fatah compound falls into Hamas's hands the US government will give Israel green light to respond.
But that's not what happened.
What happened instead is that Israeli Prime Minister Ehud Olmert announced that he would "stay out of Gaza" while US powerbrokers nodded sagely.[30]
Hamas in Gaza now has a unified and much better equipped force with which to attack the Israeli Jews. There is the mutual buildup during all the months of 'fighting,' and now all of that build up, on both sides, is essentially intact in Hamas's hands. This has become an excuse for the Western powers to rapidly strengthen further the military capabilities of PLO/Fatah in the West Bank.
"The United States will continue financing the Palestinian Authority's presidential guard, which is loyal to PA President Mahmoud Abbas…officials in Washington said."[39]
Don't you just love this? This is the same 'presidential guard' that simply handed Gaza over to Hamas.
Ehud Olmert of course announces that this in no way endangers his planned evacuation of the Jews from the West Bank. How could it? After all, the first evacuation worked out so well (just look at Gaza).
"Olmert said that the new reality in the PA might present a new opportunity for political progress as Israel would consider a Palestinian government without Hamas as a legitimate partner for future talks."[40]
Why? Because Mahmoud Abbas and PLO/Fatah are the good guys, remember? So Mahmoud Abbas 'outlaws' Hamas in the West Bank, and right away the embargo is lifted and PLO/Fatah starts receiving the Western millions again (which in fact never ceased because the fighting was Bush's reason to send his millions during the 'embargo').[41]
We also hear that "US President George W. Bush and Israeli Prime Minister Ehud Olmert both gave strong backing to the cabinet appointed by moderate president Mahmud Abbas after Hamas's takeover of Gaza."[42]
As if US support for PLO/Fatah were not enough, the Russian news agency ITAR-TASS explains that Moscow views with approval "the Israeli intention to...transfer some of the tax and customs revenues to the Palestinian National Authority, release 250 Palestinians from custody [read: Arab terrorists who had been jailed for participating in the murder of innocent Jews – HIR], and remove a number of checkpoints [whose purpose is to prevent Arab terrorists from murdering innocent Jews – HIR]."[43]
And Olmert is even considering releasing a multitude of Hamas prisoners in exchange for one captured Israeli soldier, which will of course teach the terrorists that they should kidnap more Israeli soldiers.[43a]
The Oslo 'peace' process, officially, is based on the premise of Israeli territorial (and other) concessions in exchange for canceling the Arab pledge to exterminate the Israeli Jews (or 'destroy the Zionist entity,' as they often like to say). This is how Israeli leaders sold the Oslo process to the Israeli Jews. It is important always to keep this in mind when passing judgment over the behavior of Israeli leaders, because the antisemitic terrorist organizations have clearly not abandoned their genocidal goals, and yet Israeli leaders have continued to make one concession after another, literally as if they were in the pay of the enemy.[44]
The new Defense Minister of the Jewish State is Ehud Barak, who, while he was Israeli prime minister some years ago, offered to give everything to the antisemitic terrorists essentially for nothing (but the terrorists needed more).[45] The 'opposition' is personified by Benjamin Netanyahu, who, when he was prime minister, offered to give everything to the antisemitic terrorists in exchange essentially for nothing (but the terrorists needed more).[46]
There is no real opposition.
Consider: It appears that Olmert will allow PLO terrorists now stationed in Jordan to come into the West Bank, using the cover story that these troops are needed to prevent a Hamas takeover in the West Bank as well.[46a] Who provided the political cover for this? 'Opposition' leader Benjamin Netanyahu, who has been calling for Ehud Olmert "to bring thousands of Jordanian soldiers into Israel to strengthen Palestinian Authority president Mahmoud Abbas."[47] Check mate. It matters not which 'leader' ordinary Jews support, they will be burned.
The Jews are leaderless. Their 'leaders' are leading them to slaughter. (Nothing new, unfortunately.[32])
About the US, let's see if we can find a pattern.
Gaza, supported by Iran, has now been armed to the teeth by the US (thanks to the PLO/Fatah handover). The giant to the southeast, Egypt, has also been armed to the teeth by the US.[20] To the East, Jordan and Saudi Arabia have also been armed to the teeth by the US.[49]
The West Bank is being readied, for PLO/Fatah is being rearmed to the teeth by the US.
The invasion of Iraq has given Iraq to Iran. Iran already controls Hezbollah, Lebanon, and Syria, so once the US troops leave, Iran will have a land corridor going all the way to the northern border of Israel. The US gave Iran a land corridor to Israel.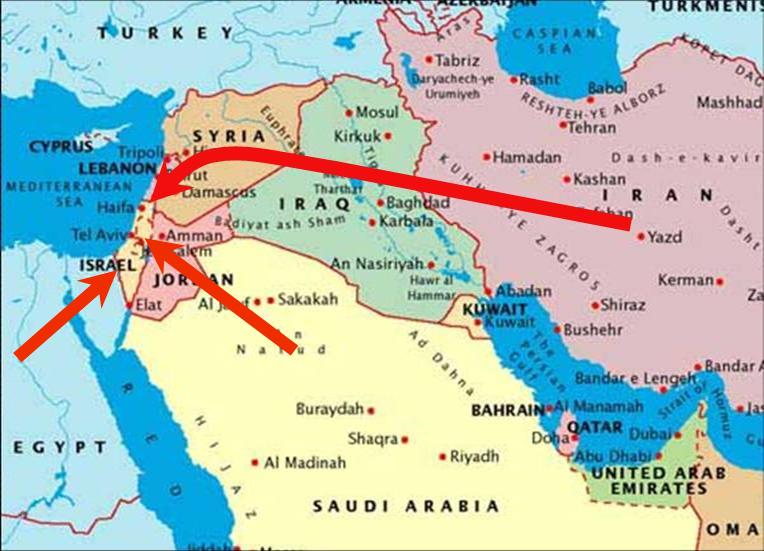 Don't wait for the US to attack Iran. As HIR predicted a long time ago, this is not going to happen.[50]