Arab Christians, predictably, are torn between the Arab identity, which inclines them towards solidarity with Arab Muslims, and the Christian non-Muslim identity, which puts them in the same category with Jews from the Muslim point of view: they must be forcibly converted, enslaved, or killed.

[6a]
Arab Christians do not get a pass from Muslims because they are Arab. Donna Rosenthal writes:
"According to an IDF spokesperson, a slightly increasing number of Israeli Arab Christians over age eighteen are either volunteering for the IDF or performing national service in schools and hospitals in their communities. In 2001, a young sergeant from Tur'an, a tranquil Galilee village where Jesus is said to have turned wine into water, became the first Christian soldier in the Israeli army to be killed in the intifadam shot in the head by a Palestinian sniper in Gaza. He and a number of other Arab Christians from this village enlisted after nearly one hundred men linked with radical clerics burst into a church during Good Friday Mass in 1997 'Tur'an must be 100 percent Muslim.' Christian-Muslim clashes continued for days. A Christian art student was stabbed to death. Rioters fire-bombed Christian homes. 'The Muslims call us traitors now,' said a soldier, a pastor's son, who keeps his army rifle close by during leave; the family kitchen was pockmarked with bulltets. More and more, young Christians are unwilling to turn the other cheek. 'We are not going to live in fear anymore. I think we realized that our future was more important than all the words of nationalism. You know the Muslims don't think of us as part of that nationalism, except when they need us. That's the truth. They talk about all this stuff against Israel and against occupation and collaboration. But they only care about fellow Muslims. We used to eat from the same plate, but now this village is torn apart. We [as Christians] have to do what is right for us now.'"[6b]

What portends the new US stance on Iran's rush to acquire nuclear weapons?
________________
Immediately before the Annapolis Conference a DEBKAfile "exclusive analysis" stated that, "with only hours to spare, the US organizers of the Middle East conference opening in Annapolis Tuesday decided to make the best of a forlorn event by switching its leitmotif from the intractable Israeli-Palestinian dispute to Iran -- and its multiple threats to the Middle East." What the US ruling elite was now hoping to achieve in Annapolis, DEBKA said, was "a united Arab front against Iran."[7]
Immediately after the Annapolis Conference, DEBKA wrote:
"In a radical about-face, White House officials suddenly 'discovered' Monday, Dec. 3, that Iran had halted its nuclear weapons program four years ago... This 'discovery' appeared in the latest National Intelligence Estimate, together with the comment that Iran seems less determined to develop nuclear arms than previously believed and is more vulnerable to international pressure...
...Monday, too, even the 'moderate' Arab turnout at the Middle East conference proved to be an illusion when Saudi King Abdullah walked into the GCC conference hall in Doha hand in hand with Mahmoud Ahmadinejad. The Iranian president was invited to the Gulf summit for the first time. The 'moderate' Arab front against Iran, proudly presented by US Secretary of State Condoleezza Rice and prime minister Ehud Olmert, melted away to nothing."[8]
It seems, therefore, that DEBKAfile's pre-Annapolis "exclusive analyses" -- based on what appear to have been rumors or deliberate official disinformation -- got everything dead wrong, as DEBKA now admits.
First, the push to give Judea and Samaria to PLO/Fatah was hardly abandoned at Annapolis. On the contrary: the Israeli government committed itself to resolving the issue of the handover by the end of 2008. Moreover, in true imperial fashion, a US general -- one who is "involved in cutting business deals with the Gulf states" -- will be the one deciding whether PLO/Fatah is living up to its obligations in the 'Roadmap.' He will be coordinating closely with another US military officer, Keith Dayton./ This Dayton has in fact been training the 'Palestinian Authority' troops for a year, and it is worrisome that "Dayton faced harsh criticism by [US] Congress members earlier this year after admitting that Fatah terrorists had obtained American arms." In other words, the people in charge of making PLO/Fatah terrorists more deadly will be telling us whether or not they are supposedly behaving.[8b]
The "radical about face" that now assures us there is no nuclear threat from Iran is especially dramatic given that on 12 November another DEBKAfile "exlusive analysis" had reported that, according to its Washington sources, "the US president's plan is to put before the public new findings on Iran's nuclear secrets, drawn from data gathered by the United States, Russia, France, Germany and Israel, and use the publicity as a fulcrum to push hard for tough international sanctions [against Iran]."[8a] And the supposed US-sponsored "united Arab front against Iran" was a sham, since it "melted away to nothing." In fact, as DEBKA also reports, following its declaration that Iran is not a threat, the US government is now embarking on a Saudi-brokered deal to get along with Iran.[8c]
What is the Israeli reaction?
"According to senior [Israeli] ministers," wrote Y-Net News on 9 December, "Israel has information proving that Iran did not cease in its efforts to obtain a nuclear bomb, and is only acting in secret. Nevertheless, none of the three top ministers, Prime Minister Ehud Olmert, Defense Minister Ehud Barak, or Foreign Minister Tzipi Livni seeks to create a confrontation with the American administration."[8d] What geopolitical relationship will be consistent with the Israeli government being reluctant to confront the US government when it says that Iran is supposedly not a mortal threat to Israel? One in which the US is the master and Israel is the pet, required to be docile even when the master is cruel (and yet, high-profile US academics will have you believe that the US -- the mightiest power in history -- is supposedly Israel's pet). Internal political pressures being what they are, however, Ehud Olmert on 12 December issued what the Associated Press calls a "fierce rebuttal to a US Intelligence assessment that Iran has halted its nuclear weapons." And yet Olmert added that he wanted to work through the International Atomic Energy Agency (IAEA), which has already signalled it means to produce a "nuclear free Middle-East," something that would require stripping Israel of its nuclear deterrent.[8e]
Now, but why was DEBKA so wrong? Because sound geopolitical predictions cannot be based on the latest rumor; they have to be based on an analysis of history.
Way back in February 2006, at a time of supposed 'crisis' between the US and Iran, when everybody and his second cousin were predicting an imminent US attack on Iran, Historical and Investigative Research published an article predicting that there would be no such attack.[9] Then, when Iran seized a few British officers and everybody once again predicted an imminent attack, since this was a perfect excuse, HIR published an article explaining that this was just political theater, with a structure identical to the 1979-80 Iranian hostage crisis, meant to make Iran look very tough. Nothing was likely to happen. Indeed, the hostages were released and there was no war.[9a] HIR's analysis was naturally not based on the latest rumors in the media (or else we would have predicted a US attack against Iran). We based it on the documented history of US-Iranian relations since 1979, when the Islamists took power. This history reveals a very close alliance between the US and Iranian ruling elites -- the mutual invective is just theater, there to dupe you. I summarize this history briefly below:
1) In the wake of the 1979 Iranian Revolution, Islamist leader Ayatollah Khomeini staged a coup d'etat and then absorbed SAVAK wholesale. This had been the deposed Shah's repressive internal security apparatus, and now, with its personnel intact, it was renamed SAVAMA: Khomeini's tool of internal repression. And yet, before the revolution Khomeini had been promising to dismantle SAVAK because it was a repressive extension of the hated CIA, the intelligence agency of 'Great Satan.' Indeed, SAVAK had always had very close ties with the CIA because it had been created by the CIA and because the Shah was a US puppet, installed by a CIA operation in a 1953 coup. So there was a stark contradiction between the anti-US words of the Ayatollah Khomeini when he dramatically denounced 'Great Satan' in his speeches, and his pro-'Great Satan' actions when he absorbed wholesale a CIA subsidiary. Actions speak louder than words.[10]
2) The Iranian Revolution depleted the Iranian military which was in dire need of spare parts. Those spare parts could only be American because the entire Iranian military infrastructure was US-made (because the Shah had been a US puppet). This means that the Ayatollah Khomeini could not afford to provoke a war with Iraq immediately after he took power -- unless, that is, he knew already that the US would supply him with weapons. What happened? a) The Ayatollah Khomeini provoked a war with Iraq; b) The US gave Khomeini about $8 billion dollars (officially to release the well-treated hostages in the US embassy in Tehran); and c) In secret, the US began sending the Iranians billions of dollars in weaponry, every year, which the Iranians bought with the money for the hostages (when this was discovered it was called the Iran-Contra scandal, or 'Iran-gate.') When caught, the US government claimed that the arms shipments were to gain the release of a handful of American hostages held in Lebanon by the Iranian-backed Hezbollah. This explanation was ridiculous on the face of it, but in any case the arms shipments to Iran began in 1981, and the first hostage in Lebanon was not taken until 1982, so the arms shipments had nothing to do with releasing hostages. There was, therefore, a stark contradiction between the anti-Khomeini words of the US government, when they denounced him as an Islamist terrorist and claimed to prefer an Iraqi victory in the Iran-Iraq war, and the louder pro-Khomeini actions of giving Khomeini billions of dollars with which to secretly buy American weapons for his war against Iraq.[11]
3) When the Iran-Iraq war ended badly for Iran despite all the US help, and Iran had to ask for a cease-fire in 1988, Zalmay Khalilzad, at the State Department, wrote a briefing paper for incoming President Bush Sr. in which he called for "strengthening Iran and containing Iraq." The next year he authored an article in the Los Angeles Times where he argued that "Tehran is looking for ways to overcome strategic inferiority and gain a degree of protection against Iraq," and that "a further weakened Iran would not increase stability," and so it would be better -- once again -- to strengthen Iran. Right after that, Khalilzad was named assistant undersecretary of defense for policy planning, following which the US prodded Kuwait to provoke Iraq into attacking it. This produced the excuse -- 'defending Kuwait' -- for the 1991 Gulf War that destroyed Iraq. With that done, US policy became to contain Iraq. Iran was, in consequence, strengthened. In this case US actions and words were in harmony, because Khalilzad had called for "strengthening Iran and containing Iraq."[12]
4) From his new perch at RAND Corp., a 'think tank' that pretends to be independent of the US government, Khalilzad argued in 1992 that the Bosnian Muslims should be armed and that the Afghan strategy -- relying on Islamic states to arm and train terrorist 'holy warriors' -- should be followed. Pentagon military intelligence coordinated with the Iranian government to import thousands of foreign mujahideen (or mujahedin = 'holy warrior') mercenaries into Bosnia. These soldiers fought for the Bosnian Islamist and terrorist Alija Izetbegovic, whose policy was genocide. During this time US and Iranian officials loudly exchanged invective, but actions speak louder than words.[13]
5) More recently, Iran in fact cooperated closely with the US invasion of Iraq. Not only that: the US military took action, while invading Iraq, to strengthen the Iranian regime, for example bombing the positions of Iranian rebels based in Iraq.[14] Everybody agrees that the effect of the US invasion of Iraq has been to install there a pro-Iranian Shi'ite government.[15] As early as 2005, Zalmay Khalilzad, the American viceroy in Iraq, began calling for an early withdrawal of US forces from Iraq even as he conceded that Iran was "advancing its long-term goal of establishing [regional] domination."[16]
Now, over the course of the last two years, harsh words have been exchanged between US and Iranian officials concerning the Iranian nuclear program, and US President George Bush called Iran a component of the 'Axis of Evil,' a monicker so corny and melodramatic that it can only be topped by Iran calling the US 'Great Satan.' Once again, however, actions speak louder than words -- in this case, actions that the US has not undertaken. The US government has repeatedly done nothing to stop Iran's nuclear ambitions, and, as we see above, it has now announced that it will do nothing.
DEBKA now says that "Saudi and American sources told DEBKAfile that President George W. Bush used the Annapolis conference as a piece of theater, which presented a sham moderate Arab front against Iran to disguise the intense work underway on a Saudi-mediated accommodation between Washington and Tehran."[16a] The point, however, is that on the basis of the above history, DEBKA should have predicted, before the conference, that any semblance of producing an anti-Iranian front simply had to be theater, because a truly anti-Iranian policy would have completely contradicted the entire history of US foreign policy toward the Iranian Islamist regime.
Friendly noises are now also coming from the Iranians. In the last few days, former Iranian President Mohammed Khatami was here in Mexico City and he had a chat with reporters from the daily Reforma. Leonardo Valero wrote in that paper:
"...Dr. Khatami was confident yesterday that when neoconservative ideas are defeated -- which he thinks is possible in the presidential elections that will be held next year -- Washington may come to recognize that it has many common interests with Teheran.
The report presented last Tuesday by the intelligence agencies in the United States, where they recognize that Iran had slowed down its military nuclear program in 2004, Khatami opined, was evidence of the retreat of neoconservative ideas."[17]
It appears that we are being prepared, by both US and Iranian officials, for a significant 'thaw' in US-Iranian relations that will be consummated by the time the next administration comes into power. But in fact there have been noises towards this -- amid the obligatory exchanges of insults -- all along. For example, earlier this year, in April, "Condoleeza Rice [was] urging Iran to join her at a high-level conference on the future of Iraq next week, signaling that Washington is now ready for a serious exchange of views with Tehran." The Financial Times explained the context: "Washington's need to secure the right regional environment for its eventual withdrawal from Iraq."[18] Then, in May, the Jerusalem Post reported that "The US and Iran say they will hold upcoming talks in Baghdad about improving Iraq's security." In the words of Gordon Johndroe, the White House's National Security spokesman, "The purpose is to try to make sure that the Iranians play a productive role in Iraq."[18a] This all agrees with what HIR argued, as far back as late 2005, was the purpose of Bush's war on Iraq: giving Iraq to Iran.[19]
What does this all achieve? Pro-Iranian Shi'ite control of Iraq allows Iran to become the dominating presence in the emerging 'Shia Crescent.'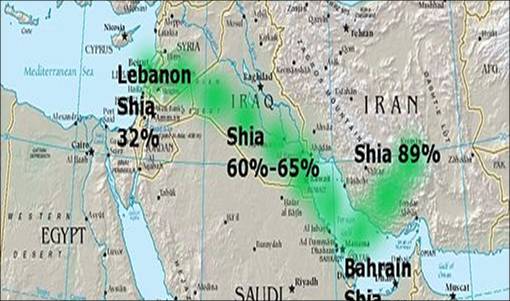 This will allow Iran to launch a direct, conventional attack on Israel's northern border, because Hezbollah, Lebanon, and Syria are already functioning as Iranian satellites.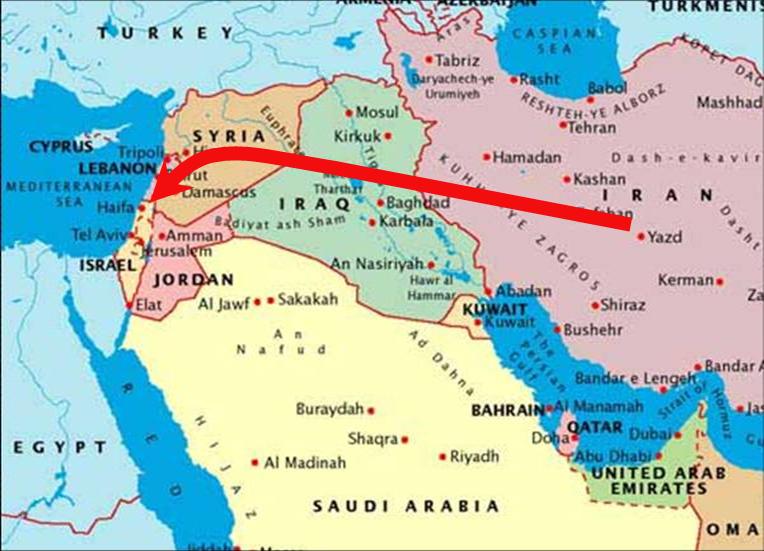 This aspect of the future attack on Israel, therefore, is now reaching its final stage with the staged 'thaw' between the US and Iran that will allow US troops to be evacuated from Iraq when the new US administration comes in, leaving that country awash in sophisticated US weaponry that can be used against the Jewish State.
There is also the question of Iraq's WMDs, which probably did exist and ended up in Syria, something that the US government has gone out of its way to keep from public view.

__________________________________________________________
Footnotes and Further Reading
__________________________________________________________