<![if !vml]>

<![endif]>
GLOBAL WARMING
—an hir series—
| | |
| --- | --- |
| 6 | Who holds the balance of power? The skeptics or the IPCC? |
Historical and Investigative Research; 6 August 2014; by Francisco Gil-White


http://www.hirhome.com/climate_change/global_warming06.htm
'Orwellian' is an adjective reserved for a media-imposed total inversion of reality, plus indifference to absurdity equal parts boldness and nonchalance (so powerful in the rash assertion of its plausibility as to convince the innocent). Loudly claiming that the Antarctic ice-core evidence supports the AGW hypothesis—when it in fact refutes that hypothesis—is Orwellian. The same goes for the manner in which IPCC scientists describe themselves as the supposed persecuted party. We will argue here that the balance of power is unequivocally on the IPCC's side.
█ Introduction
█ On whose side is Big Business?
█ Skeptical journalists bullied by the powerful
▄ Disagree with Al Gore, and get threatened
▄ Disagree with Al Gore, and beware the State
█ Is anybody bullying IPCC scientists?
█ Have skeptical scientists been bullied?
█ Conclusion: The new Lysenkoism
Introduction
"NEWSWEEK implied... that ExxonMobil used a think tank to pay academics to criticize global-warming science. Actually, this accusation was long ago discredited, and NEWSWEEK shouldn't have lent it respectability."[6]
In The Great Global Warming Swindle, Al Gore is shown posing before his giant graph of the 650,000-year Antarctic ice-core record, with two sawtooth curves, one for CO2 and another for temperature.
<![if !vml]>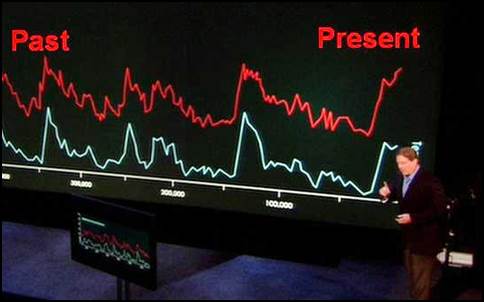 <![endif]>
Gore says:
---
---
---
---
---
---
---